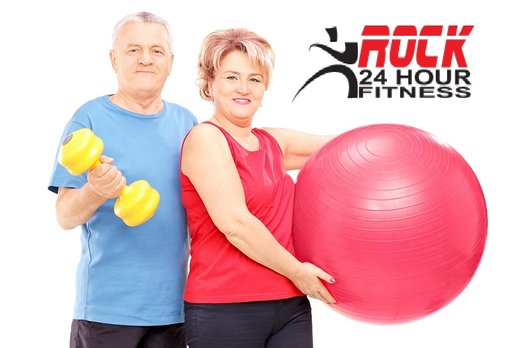 rock membership general information

We want you to feel comfortable with your membership rate and try our best at keeping our rates affordable @ The Rock. We are family owned and operated and personally handle the monthly draft/billing in-house...we do not have an outside 3rd party handling your account numbers and personal information which make many of our members feel comfortable!
All of our rates include UNLIMITED 24 HOUR ACCESS/ENTRY, ACCESS TO ALL ROCK LOCATIONS, ALL GROUP FITNESS CLASSES, SUPERVISED KIDZONE, AND A FREE MEMBER ORIENTATION SESSION WITH ONE OF THE ROCKS CERTIFIED PERSONAL TRAINERS TO HELP GET YOU STARTED! WE WOULD LOVE FOR YOU TO COME SEE US AND TAKE A TOUR.Please keep in mind that:
*WE NEVER HAVE ANY ENROLLMENT OR JOINING FEES**
*WE NEVER HAVE YEARLY MAINTENANCE FEES, ENROLLMENT FEES, KEY FEES, ETC!**
*IF YOU SIGN UP ON THE MONTHLY DRAFT SYSTEM, YOU WILL NEVER HAVE TO WORRY ABOUT YOUR RATE INCREASING!!! EVER!!!**
THE ROCK PLAN- BEST DEAL!!
$19/single and $29/family
*family consists of up to 4 family members IN THE SAME HOUSEHOLD *ID/PROOF OF ADDRESS REQUIRED*
Payment Options:
1 year Paid in Full OR monthly draft. *12 month agreement- one time early cancel fee $59 if cancel before 12 months*NO COMMITMENT PLAN
$29/month and $49/family (family consists of up to 4 family members )
IN THE SAME HOUSEHOLD *ID/PROOF OF ADDRESS REQUIRED*
With this plan, you are under no commitment but pay a higher price.
Payment options: monthly draft or minimum of 3 month payment
SENIOR CITIZEN RATE (Ages 62+)
-
$15/single and $25/senior couple-
NO COMMITMENT!
payment options:
monthly draft or minimum of 3 month payment
DURING THE SUMMER MONTHS, WE DO OFFER COLLEGE STUDENTS A "HOME FROM COLLEGE SPECIAL RATE" OF $60 for a 3 month paid in full membership or $25/month ( special rate valid during May 1st-August 31st only)* current college ID required and must mention at time of sign up* *normal rates apply during the other months*
**Guest Policy- a guest/friend of a Rock member may receive a free day pass! The guest/friend MUST COME DURING STAFFED HOURS (can come after hours if approved in advance by staff) and must sign in at the front desk. There is no limit to number of "friends/guests" a rock member may bring but the friend/guest can come one time then have to pay the day pass or become a member.
UPGRADE ANY OF OUR PLANS to include LKN in DENVER AT A LOW DISCOUNTED RATE!*
ask staff for details and rates!
http://www.lknathleticclub.com/
UPGRADE YOUR MEMBERSHIP TO INCLUDE UNLIMITED TANNING IN A LEVEL 3 AND LEVEL 4 TANNING BED FOR ONLY $9.99/MONTH PER PERSON!
---
We participate in the Silver Sneakers and Silver & Fit programs!